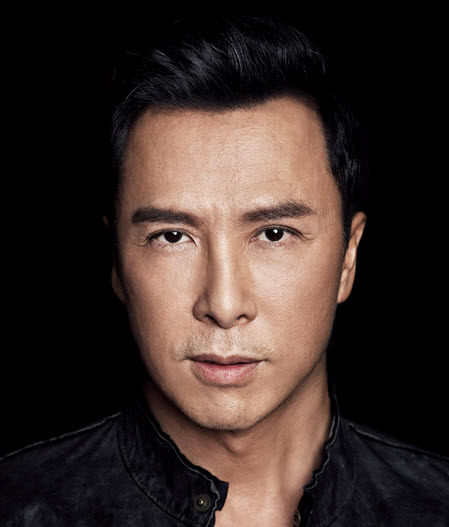 Donnie Yen Ji-dan (b. 1963) is an actor, action choreographer, stuntman, martial art expert, stuntman, film director and film producer from China. He is also a multiple Wushu World Champion.
Donnie Yen is strongly associated with Hong Kong action movies, but has also done notable work – including fight choreography work for the big screen – in the United States. For the international mainstream audience, he is know for playing Chirrut Imwe in Rouge One: A Star Wars Story (2016) and the agent Xiang the 2017 Vin Diesel movie xXx: Return of Xander Cage.
Yen has received numerous prestigious film awards throughout his career, including awards for his fight choreography for the movies The Twins Effect, SPL: Sha Po Lang, Flash Point, and Kung Fu Jungle. Although he remained un-credited, Yen also co-choreographed action scenes for the Hong Kong Film Award winners Bodyguards and Assassins, Ip Man, and Ip Man 2.
So far, Yen has been awarded the Hong Kong Film Award for Best Action Choreography four times, making him one of the most frequent winners of this illustrious award. He also won the category Bets Action Choreography at the 2008 and 2011 Golden Horse Film Awards.
Background
Yen Ji-dan was born in Guangzhou, Guangdong, China on July 27, 1963, to newspaper editor Klyster Yen and martial arts expert Bow-sim Mark.
Bow-sim Mark, the mother of Yen Ji-dan, is skilled in martial arts. She is a Fu Style Wudangquan and Tai Chi grandmaster, and her interest in martial arts was a big influence on the young Yen Ji-dan and his sister Chris Yen. Both siblings grew up to be martial artists and actors.
The family moved from Guagnzhou to Hong Kong when Yen was two years old, and from there to the United States. From the age of 11, Yen lived in Boston.
When he was only 14 years old, Yen dropped out of school to focus on his wushu training. His parents disliked that he spent time in seedy parts of Boston, and sent him to China to train with the Beijing Wushu Team instead.
Choreography
Donnie Yen is well-established action choreographer for movies who has won multiple awards in this field. He has done the action choreography for most of his movies in Asia, and outside Asia, he has worked as a choreographer for films such as Highlander: Endgame, Blade II and Shanghai Knights.
Since Yen has done choreography work in both Hong Kong and Hollywood, he has had the opportunity to compare the two from a choreographer´s standpoint. According to Yen, Hong Kong has a tradition where the main director steps back and the action choreographer takes control during the fight scenes, essentially becoming the director of that part of the movie. The choreographer is in control of things such as camera placements and camera angles, and is also responsible for managing the relationship between the story and the action. In Hollywood, this is not the norm, and the action choreographer simply choreographs the action, while the main director stays in control of the scene.
A few examples of Yen´s choreography work
SPL: Sha Po Lang
At the 25th Hong Kong Film Awards ceremony, Yen received the Best Action Choreography Award for his work with the 2005 Hong Kong action film "SPL: Sha Po Lang", a movie in which he also starred as police officer Ma Kwun.
Flash Point
For his work with the 2007 Hong Kong action film "Flash Point", Yen won Best Action Choreography awards at both the 27th Hong Kong Film Awards and the 2008 Golden Horse Film Awards. For the choreography of the movie´s major fight scenes, Yen took inspiration from mixed martial arts and worked alongside an international group of martial artists.
Legend of the Fist: The Return of Chen Zhen
Yen was the fight choreographer for the 2010 action movie "Legend of the Fist: The Return of Chen Zhen" and elected to include Jeet Kune Do elements as a tribute to Bruce Lee, who played the character Chen Zhen in the 1972 movie "Fist of Fury". Jeet Kune Do is a hybrid philosophy of martial arts heavily influenced by the teachings of Bruce Lee.
For "Legend of the Fist: The Return of Chen Zhen", Yen combined Jeet Kune Do with MMA and Wing Chun, paying attention to the similarities between Jeet Kune Do and MMA.