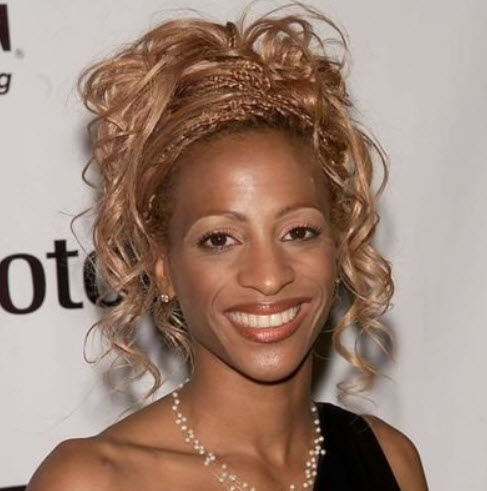 Famous for her signature Russian splits, Rory Flack (b. 1969) is a figure skater, coach and choreographer from the United States, who also runs her own production company for ice skating events.
In 1991, she became the first female African-American figure skaters to publicly perform a back flip on the ice. Three years later, she won the US Open Professional Figure Skating Championships.
Flack has been choreographing figure skating programs for herself since she was a senior competitor and is today also a sought-after choreographer for other figure skaters – both for competitions and shows.
Background
Ellen Rory Flack was born in Belleville, Illinois, USA on April 28, 1969, to Dorothy Jackson and William Flack.
Rory Flack lived in Phoenix, Arizona until the age of 10, and then in San Diego, California until she was 21 years old.
She started skating at age 5. She loved figure skating but had thoughts about giving it up because of racism. At age 13, she met the figure skater and coach Mabel Fairbanks and was inspired to keep skating. Fairbanks (b. 1915) was of African-American, Seminole Native American and English ancestry, and a strong advocate for minorities in the sport of figure skating.
Two years after the meeting with Fairbanks, Flack was one of three African-Americans to compete at the US National Championships. (The other two were Debi Thomas and Bobby Beauchamp.) This was the first time three African-Americans competed at the Nationals. They captured three medals and all earned spots on the international team.
Skating choreography & ice show production
Flack´s career as a choreographer started while she was still a senior competitor, as she started choreographing her own programs.
In the early 1990s, Flack began coaching figure skaters in Kentucky and Ohio, which led to her being hired as a coach by the Indiana World Skating Academy in 1992. When the choreographer Brian Wright, her mentor at the academy, fell ill during the summer that year, Flack took over the choreography department.
In 1993, Flack accepted the position as Program Director to build the Basic Skills Program for the Seattle Skating Club and also develop the new Olympic View Training rink in Washington.
Shortly after winning the 1994 US Open Professional Figure Skating Championships, Flack opened a figure skating school in Alaska: the Artistry of Movement Ice Skating Academy. She also continued to perform in professional competition and shows.
In 2001, Flack choreographed one production number and two solos for an even where she appeared with Aretha Franklin. Soon thereafter, she founded her on production company: The Color of Ice Production Inc.
In early 2002, Flack created, produced and choreographed Ebony on Ice, and ice skating production where all the skaters were black. Headlines by Flack herself, the show included guest artists such as Howard Hewitt, Kenny Gambel and Savion Glover. Ebony on Ice ran for ten weeks at the Legacy Theater in Chicago.
The following year, Flack launched a revised production of Soul Spectacular on Ice, also known as Ebony on Ice, in Florida and Washington, DC. The show earned both excellent reviews and strong ticket sales, and its success in these two locations prompted the scheduling of national tour.
In 2004, Flack was assistant choreographer for the TV production of A Tribute to Earth Wind and Fire on Ice. For some of the numbers in the show, she was the lead choreographer, including two production numbers, two personal solos and one number for Brian Boitano and Brian Orser.