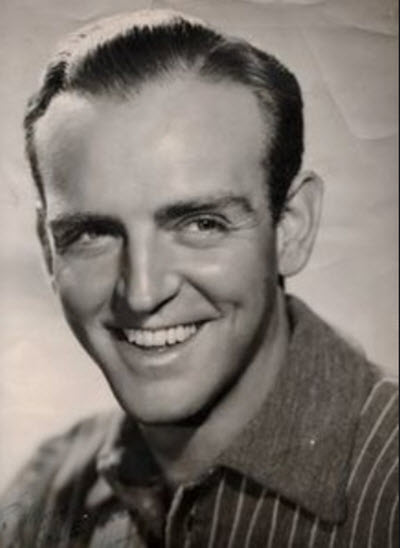 The United States dancer and choreographer Hermes Pan (1909-1990) is chiefly famous for his collaborations with Fred Astaire and Ginger Rogers. Throughout his career, he did choreography for nearly two dozen Astaire movies and TV shows. Notably, Pan worked on all the Astaire movies made by the studio RKO.
All in all, Pan did choreography for 89 films, and he also danced and/or acted in numerous of movies. He received an Academy Award for Best Dance Direction for his work with the 1937 movie "A Damsel in Distress".
The collaboration between Pan and Astaire – which included 17 out of Astaire´s 31 musical films and three of his four TV-specials – had an enormous impact on 20th-century film and TV dance choreography.
Background
In 1909, Hermes Joseph Panagiotopoulos was born in Memphis, Tennessee, USA. His father Pantelis Panagiotopoulos had immigrated to the U.S. From Greece, and his mother Mary Aljeanne Huston was from southern U.S. Hermes had two siblings: Panos (b. 1903) and Vasso Maria (b. 1906).
Hermes was interested in music and theater from an early age. One important influence was the jazz music and tap dance that he experienced when visiting his nanny Betty Clark´s black neighborhood. He would go on to learn many popular dances of the era from the nanny´s son Sam Clark, talented dancer.
Early dance career
In 1923, Mary Panagiotopoulos – who was now a widow – shortened the surname Panagiotopoulos to Pan and moved with her children, and Sam Clark, to New York. In the big city, the teenaged Hermes Pan took part in amateur dance productions and performed at speakeasies.
Hermes Pan´s stage career started in earnest in 1928, when the 19-year-old Pan got a job as a chorus boy in the Marx Brother´s production of Animal Crackers. Two years later, he would meet Ginger Rogers for the first time, when he was a chorus singer in the Broadway musical Top Speed.
In 1930, Pan and several members of his family and in-laws moved to Los Angeles.
Collaboration with Fred Astaire
Hermes Pan first meeting with Fred Astaire was on the set of the 1933 movie "Flying Down to Rio", where Pan was assisting the dance director Dave Gould. When Astaire was in the process of trying to develop a series of steps for one of the dances ("The Carioca") someone mentioned that Pan had a few ideas. Pan got the opportunity to show Astair a brief break from the streets of New York, and this was the start of many years of both professional collaboration and private friendship between the two.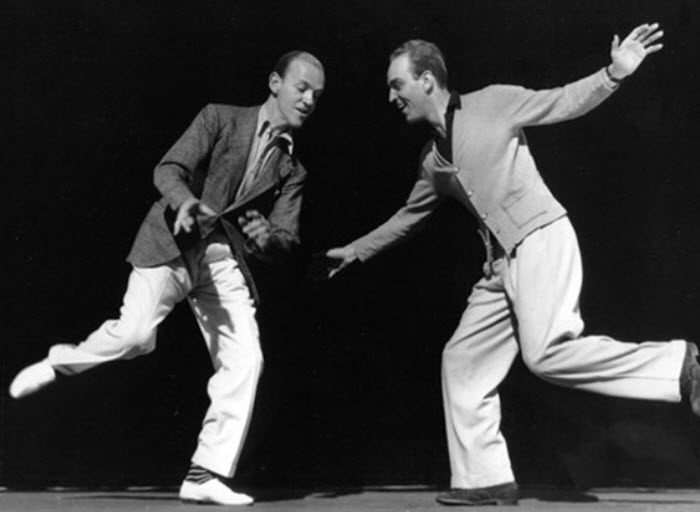 Even though Astaire normally choreographed his own routines, he received a lot of input from Pan and referred to him as his "idea man". Pan was also Astair´s rehearsal partner when it was time to fine-tune dance routines.
Collaboration with Ginger Rogers
During the filming of Astaire-Rogers movies, Rogers often had other commitments that conflicted with Astair´s rehearsal schedule, so the task to rehears with Rogers would instead fall on Pan. Pan also recorded Roger´s taps in post-production on all their movies after Roberta (1935).
Awards
For his work with the 1937 movie "A Damsel in Distress", Pan received an Academy Award for Best Dance Direction.
For his work with the 1961 television special "An Evening with Fred Astaire", Pan received a National Film Award in 1980.
In 1986, Pan received an award from the Joffrey Ballet for his contributions to American dance.
Nominations
Nominated for Academy Awards for the "Top Hat" and "The Piccolino" dance numbers from the 1935 movie "Top Hat".
Nominated for an Academy Award for the "Bojangles of Harlem"' dance number from the 1936 movie "Swing Time".
Films
Pan worked as a choreographer for the following films:
Flying Down to Rio (1933) (assistant to the choreographer)
The Gay Divorcee (1934)
Roberta (1935)
Old Man Rhythm (1935)
Top Hat (1935)
In Person (1935)
I Dream too Much (1935)
Follow the Fleet (1936)
Swing Time (1936)
Shall We Dance? (1937)
Damsel in Distress (1937)
Radio City Revels (1938)
Carefree (1938)
The Story of Vernon and Irene Castle (1939)
Second Chorus (1940)
Sun Valley Serenade (1941)
That Night in Rio (1941)
Blood and Sand (1941)
Moon over Miami (1941)
My Gal Sal (1942)
Footlight Serenade (1942)
Song of the Islands (1942)
Springtime in the Rockies (1942)
Hello, Frisco, Hello (1943)
Coney Island (1943)
Sweet Rosie O'Grady (1943)
Pin Up Girl (1944)
Irish Eyes Are Smiling (1944)
Billy Rose's Diamond Horseshoe (1945)
Blue Skies (1946)
I Wonder Who's Kissing Her Now (1947)
The Barkleys of Broadway (1949)
Three Little Words (1950)
Let's Dance (1950)
Excuse My Dust (1951)
Texas Carnival (1951)
Lovely to Look At (1952)
Sombrero (1953)
Kiss Me Kate (1953)
The Student Prince (1954)
Jupiter's Darling (1954)
Hit the Deck (1955)
Meet Me in Las Vegas (1956)
Silk Stockings (1957)
Pal Joey (1957)
Porgy and Bess (1959)
The Blue Angel (1959)
Can-Can (1960)
Flower Drum Song (1961)
Cleopatra (1963)
My Fair Lady (1964)
Finian's Rainbow (1968)
Darling Lili (1970)
Lost Horizon (1973)
Help Me Dream (1981)