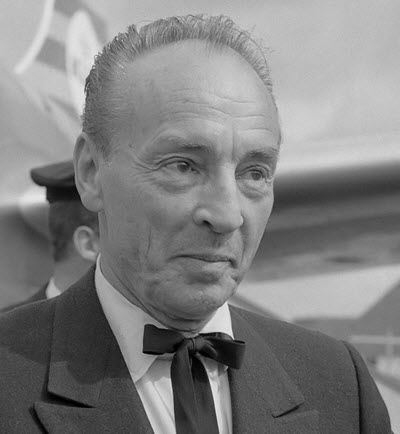 George Balanchine ((1904–1983) was one of the most influential choreographers of ballet in 20th century United States. He co-founded both the School of American Ballet and the New York Ballet, and was the latter one´s Artistic Director for over 35 years.
As a choregrapher, Balanchine was renowned for his musicality and he worked closely with leading composers. Born in Russia, Balanchine was educated at the Imperial Ballet school in St. Petersburg and later worked in the corps de ballet at the State Academic Theater for Opera and Ballet.
After leaving the Soviet Union, Balanchine fused his Russian standards and techniques with other schools of movement – including those that he learned on Broadway and in Hollywood. His distinctive style became known as "neoclassical ballet".
Balanchine choreographed roughly 400 works and came to have a huge influence on dance in the United States.
The Balanchine method
George Balanchine developed the ballet performance style that today bears his name: The Balanchine Method. It was used for many of his own choreography works, and remains popular among many of our contemporary ballet companies and ballet schools in North America – including the New York City Ballet and the School of American Ballet.
The Balanchine method has been praised for its ability to allow dancers to utilize more space in less time. Both speed and spatial expansion is enhanced, and so is syncopated musicality.
Examples of notable elements in the Balanchine method are extreme speed, very deep plié and athleticism. Pirouettes en dehors are usually taken from a lunge in fourth position (instead of taking them from the plié in fourth). There is an emphasis on line, which Balanchine achieved using unconventional (sometimes asymmetrical) arm and hand placements. Balanchine would instruct his dancers to "reach for diamonds" instead of keeping their hands relaxed. Another key characteristic is the distinctive arabesque line where the dancer keep their hip open to the audience and their side arm pressed back.
One example of a ballet where this technique is very noticable is Balanchine´s "Jewels" which premiered in 1967. The choreography for this ballet is considered very difficult to execute, partly because of the rapid footwork and precise movements.
Early life of Balanchine / Balanchivadze
Georgiy Melitonovich Balanchivadze was born in St. Petersburg, Russia, in 1904.
His father was the Georgian opera singer and composer Meliton Balanchivadze, who co-founded the Tbilisi Opera and Ballet Theater in Georgia and later became culture minister of the Democratic Republic of Georgia. Meliton Balanchivadze belonged to a family composed largely of artists and soldiers. Georgiy was born to Meliton´s second wife, a Russian woman named Maria Nikolayevna Vasilyeva who was a skilled piano player and very fond of ballet. Georgiy had a sister named Tamara and a brother named Andria.
In 1913, the nine year old Georgiy was accepted into the Imperial Ballet School in St. Petersburg. After graduating in 1921, he studied at the Petrograd Conservatory (graduated in 1923), while also working in the corps de ballet at the State Academic Theater for Opera and Ballet (until 1924).
Balanchivadze choreographed his first work while still in his teens. It was a pas de deux named "La Nuit", with music by Anton Rubinstein. His next choreography was for the duet Enigma, where Balanchivadze experimented by making the dancers perform barefoot.
Western Europe
In 1924, Balanchivadze travelled to Germany with the Soviet State Dancers and took the chance to leave the Soviet Union forever. He escaped to France, where the impresario Sergei Diaghilev asked him to join the Ballets Russes as a choregrapher. This was an itinerant ballet company based in Paris. Soon, Balanchivadze – now Balanchine – became the company´s ballet master. In 1924-1929, Balanchine choreographed nine ballets and several lesser works. He worked with illustrious composers such as Igor Stravinsky, Sergei Prokofiev, Erik Satie, Maurice Ravel, and Claude Debussy, and also had strong ties with artists who designed sets and costumes – including Pablo Picasso, Henri Matisse and George Rouault.
After the death of Diaghilev, the Ballets Russes dissolved. Balanchine took jobs choreographing variety shows in London, before becoming guest ballet master at the Royal Danish Ballet in Copenhagen. In 1931, the newly founded the Ballets Russes de Monte-Carlo hired him as their choreographer, and in 1933 he co-founded Les Ballets.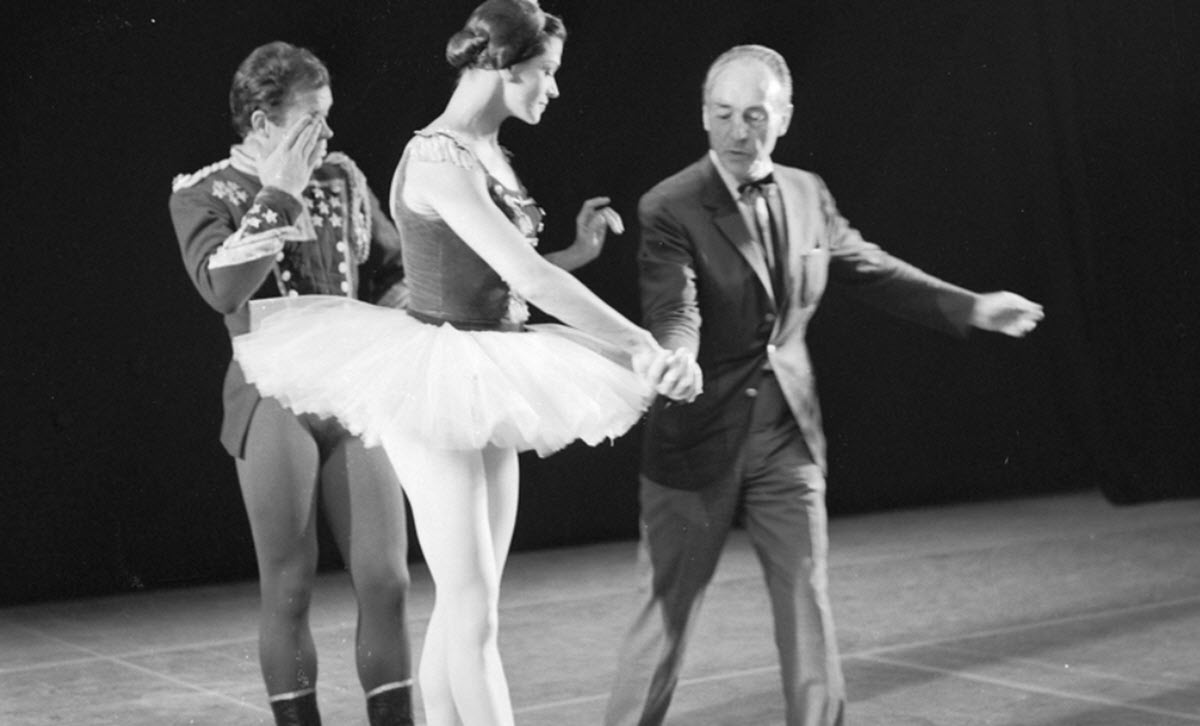 United States
In late 1933, Balanchine left Europe for the United States. Less than three months after arriving, he opened the School of American Ballet, with backing from Lincoln Kirstein and the philanthropist Edward M.M. Warburg. Before the year was over, Balanchine´s students premiered his new work Serenade at the Warburg summer estate, to music by Tchaikovsky.
In the 1930 and 1940s, Balanchine also choreographed Broadway musicals. For the 1936 musical "On Your Toes" the program billing included the phrase "Choreography by George Balanchine" instead of the conventional "Dances Staged by". This heralded a shift in American English, whereby the terms choreographer and choreography began to gain traction.
In 1938, Balanchine relocated his company to Hollywood, and began working with the film industry, choreographing dancing for movies. With his company, rebranded American Ballet Caravan, he also toured North and South America.
One example of Balanchine´s many groundbreaking creations is his choreography for The Four Temperaments, with a score by Paul Hindemith. Premiered in 1946, it was a modernist, abstract and spare ballet with many strikingly angular movements.
Eventually, Balanchine returned to New York City, where his ballet company had been offered residency at the large Manhattan theatre that we today know as The New York City Center. Since the mid-1950s, Balanchine´s version of The Nutcracker has been performed at the centre during every Christmas season.
End of life
In his last years, Balanchine suffered from heart issues and underwent bypass surgery. He was also affected by Creutzfeldt-Jakob disease, but this was not diagnosed until after hid death.
Balanchine died in New York City on 30 April, 1983, aged 79. He is interred at the Oakland Cemetery in Sag Harbor, New York State.